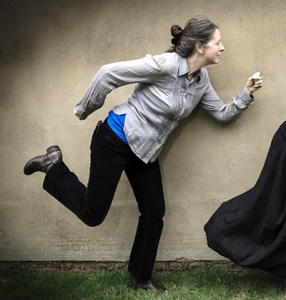 Polly Thomas is a leading producer and director, based in the UK, specialising in radio but working across several media.
RADIO
Widely recognised for her work on radio, awards include: Best Radio Drama, BBC Audio Awards for the Emile Zola season, Blood, Sex and Money; Best Radio Series, BBC Audio Awards, for The Lost Honour of Katharina Blum (Heinrich Boll), a Bronze Sony Radio Award for My Boy (Laura Lomas), and Best Radio Drama Producer, Radio Production Awards.
Recent work for radio includes the co-production of Oedipus the King (Anthony Burgess) starring Christopher Eccleston and Fiona Shaw for BBC Radio 3; directing two dramas for BBC Radio 3 at The Edinburgh Festival; BBC Radio 4's A Tale of Two Cities — Aleppo and London (Ayeesha Menon), Claudia Roden — A Book of Middle Eastern Food (Anjum Malik) for BBC Radio 4 and Amy Dorrit (by April de Angelis and Nicola Werenowska with Graeae Theatre), for BBC Radio 4, and a new version by Dan Rebellato of De Musset's Lorenzaccio.
Highlights of her work for radio include: Writing the Century, the BBC Radio 4 Woman's Hour drama series charting the 20th century through letters and diaries (with Vanessa Rosenthal); the simultaneous relay on Radio 3 of five new plays from the Royal Court Theatre London during the theatre's fiftieth anniversary celebrations; devising and co-producing for Radio 4 an adaptation of Hugo's The Hunchback of Notre Dame (together with Graeae, Alex Bulmer and Jack Thorne); the executive production for the European Broadcasting Union of The Unexpected European, and the executive production of the radio plays of celebrated film-maker Terence Davies' radio plays for BBC Radio. Other significant projects include A Girl Called Jack (Sarah Daniels) and Frank Skinner's BBC Radio 4 series, Don't Start, When Elvis Met the Beatles for BBC Radio 2 and In the Shadow of Kafka season for BBC Radio 3.
Polly's commitment to community performance includes producing the long running radio drama series, Breaking the Silence, for Unity FM, a Muslim community radio station, and Divided We Fall, a 20-part community radio soap exploring violent extremism for Shahbash, broadcast on Preston FM.
LIVE PERFORMANCE
Polly is the co-founder (together with Gary Carter) of Thomas Carter Projects, an international media and performance company. Her theatre work with the company includes Neil Bartlett's 24 Hours of Peace, a durational performance relayed live from Manchester Royal Exchange Theatre on Resonance FM; Hush…?/Adam's Apple, a music theatre work about voice and gender identity (with Alex Bulmer and Errolyn Wallen), The Pandora Effect (Gary Carter) for Fierce and Chelsea Theatre; Anger Is Not A Place I Like To Be (Carter) for Fierce, and The Masque of Water (Carter) for Queer Up North and Fierce.
She produced Neil Bartlett's Stella for London International Festival of Theatre, Brighton Festival and the Holland Festival.
In the Nineties, Polly Thomas was the Executive Director of Brouhaha International, the Liverpool street theatre festival, producing amongst other events, Invisible Cities (Teatro Potlach, Italy), a three-day large scale site specific performance by 400 international/UK artists and community groups on the banks of the River Mersey.
FILM
Polly also writes, directs and produces short films, including Quality Time for Flummox Films/Chocolate Bear Productions