Polly Thomas is widely recognised as one of the UK's leading audio producer-directors. Her award-winning work has explored the potential of the medium, including location-based recording, international co-production, community activism and simultaneous live relay. She works in live performance as writer, producer and director, most prominently with
Thomas Carter Projects
, an international media and performance company which she co-founded.
HOW TO BUILD A DJ
BBC Radio 4 / 13 November 2023, 1415
Michael Southan's BBC Radio 4 afternoon drama debut about Ben, who wants to be a DJ; Gwen, his mum who want him to be a coder, Seem his best mate who want ot be an actor; wannabe msuic promoter Tamsin, who wants him to be her ticket to success; and Dennis his grandad, who died 6 months ago but really wants Ben to be the best DJ in the world
Cast includes Callum Mardy (Our Generation, Big Boys), making his Radio 4 drama debut alongside Priyasasha Kumari (Waterloo Road) , David Crellin (Years and Years, Emmerdale), Carla Henry (Queer As Folk, Betty – a musical) and Nadia Emam (Love Across the Ages, Everything I Know About Love, Playing Dead).
Nickie Miles-Wildin director and Polly Thomas, executive producer
— a Naked Production for BBC Radio 4
LOOKING AT LEEDS
BBC Radio 3 / 11th – 15th December 2023, 2245
Five essays on key Leeds public sculptures or paintings, from five writers who know the city inside out. Each essay examines the history and current identity of the artwork, as well as it significance to the writer and the wider Leeds population.
Writers are Jeremy Dyson (co-creator and co-writer of the multi-award winning comedy show The League of Gentlemen, the BAFTA-nominated comedy drama Funland and the Rose-d'or winning all female sketch show Psychobitches. His play Ghost Stories, co-written with Andy Nyman was nominated for an Olivier award);
Malika Booker (international writer, double winner of Forward Prize for Poetry and Douglas Caster Cultural Fellow at University of Leeds) ;
Ian Duhig (worked with homeless people for fifteen years, published eight collections of poetry, held several fellowships including at Trinity College Dublin, won the Forward Best Poem Prize once, the National Poetry Competition twice and been shortlisted four times for the T.S. Eliot Prize. His New and Selected Poems was awarded the 2022 Hawthornden Prize for Literature);
Michelle Scally Clarke (writer and performer of drama, creative writing, and poetry to music and performance. Work includes BBC Contains Strong Language 2023, Space2 2016 performance and workshop focusing on mental health 'Suitcase' [link] , 2018 cross-cultural play 'Jeans, Whose Genes?' and now peer-led Clear Out Your Closer poetry group, focusing on writing for wellbeing);
and Khadijah Ibrahiim (literary activist, theatre maker and published poet/writer. She is the Artistic director of Leeds Young Authors, and executive producer of the award winning documentary 'We Are Poets'.  Recently commissioned work includes writing and directing 'Sorrel & Black cake' A Windrush Story, a Heritage Lottery funded program as part of GCF. 'Dead and Wake' Opera North 2020 Resonance and Leeds Playhouse Connecting Voices).
Produced by Polly Thomas,
Looking at Leeds is a co-commission between BBC Radio 3 and The Space with funding from Arts Council England.
— a Thomas Carter Project for BBC Radio 3
THAT'S ENTERTAINMENT?
BBC Radio 3 / 8th – 12th January 2024, 2245
Five essays by writer Amanda Dalton about the old time Variety acts that have fascinated her since childhood. In particular, those 'speciality' acts that disturb even as they entertain, designed to bamboozle the audience and mess with the mind. The essays delve in detail into each kind of act – factually, personally and in terms of their cultural and psychological meaning and symbolism.
Amanda Dalton is currently a Fellow of the Royal Literary Fund, Associate Artist at Manchester's Royal Exchange Theatre and a Visiting Teaching Fellow (Script and Poetry) at MMU's Writing School.
Amanda has two poetry collections with Bloodaxe, How To Disappear and Stray, and Notes on Water came out in 2022. her poetry has won awards and prizes in major competitions including the National Poetry Competition and  she has been selected as one of the UK's top 20 "Next Generation Poets".
Amanda writes regularly for BBC Radio 3 and 4 – original writing includes a number of original dramas and adaptations.
Produced by Polly Thomas,
— a Naked Production for BBC Radio 3
THE FAREWELL GLACIER
BBC Radio 3 / 28thJanuary 2024, 1930
In 20120, writer Nick Drake visited the Arctic. On his return home, he wrote a collection of poems (published by Bloodaxe) in the voices of the many Westerners who had come to the land over the centuries and giving voice to the future, a wake up call to how the damage being done to the Artic by POPs is a pressing global issue. Originally read at COp 26 in Glasgow, the poems are transformed into an audio drama, intercut by interviews with Sheila Watt Cloutier, human rights and Indigenous rights activist, cultural preservation advocate, politician, writer and educator. She has received international recognition and acclaim in the areas of rights activism, environmental and climate change awareness and social justice, including a nomination for the Nobel Peace Prize in 2007.
Performed by Adjoa Andoh, Jude Coward Nicoll, Kevin Harvey, Paisley James, Peter Mullan, Urmila Patel and Chloe Ragrag.
Original music was written and performed by Emma Jean and Isbel Pendlebury.
Inuit throat singing was performed by Sylvia Cloutier and Akinisie Sivuarapik.
Inuit pronounciation advisor was Leslie Qammaniq
Produced by Polly Thomas, with sound design by Eloise Whitmore
— a Naked Production in collaboration with Edel Rae for BBC Radio 3
VERGIL! A MYTHOLOGICAL MUSICAL
Classical poetry like you've never heard it……A 10 part musical drama starring Will Young and Claudia Kariuki, with Derek Jacobi, Le Gateau Chocolat, Alice Fearn, John Partridge and Divina de Campo.
Brilliant reinvention of Vergil's epic poem, The Aeneid by New York Times best seller Maria Dahvana Headley, featuring a myriad of marginalised and overlooked characters, in a swashbuckling adventure. With songs.
Vergil's epic story of Aeneas, a Trojan hero, prophesized to found Rome, who encounters the fearsome Cyclopes, the tragic queen Dido, the Trojan horse, the River Styx and the three headed dog who guards the underworld. But what about Vergil, the man who wrote it and why? This is that story. This time, full of warrior queens, rebels, queer poets and pirate women fighting back against the oppressive Roman Empire, shining a brilliant light on hidden history……accompanied by soaring ballads, poppy bangers, barber shop quartets, and comedy raps….
Cast: Alžbeta Matyšáková, Ani Nelson, Ashley Zhangazha, Ashok Gupta, Beth Hinton-Lever, Cavin Cornwall, Dan Collins, Douglas Jones, Ella Djurovich, Freddie Tapner, Frewyn Thursfield, George Georgiou, Gordon Kennedy, Harrison Knights, Jacoba Williams, Jonathan Case, Luke Hammond, Mark Hannah, Max Runham, Michael Kosko, Nadim Naaman, Olivier Huband, Olugbeminiyi Bammodu, Oscar Hansen, Raj Ghatak, Robyn Mcintyre, Romeo Mika, Sam Howard-Sneyd, Sharan Phull, Shaun Mendum, Silas Carson, Tachia Newall, Tonderai Munyevu, Tristan Waterson and William Collison.
With special thanks to London Musical Theatre Orchestra Singers, conducted by Freddie Tapner.
Music composed by Alexandra Braithwaite, Joseph Keckler and Elizabeth Purnell. Lyrics by Maria Dahvana Headley.
Sound design by Eloise Whitmore, Jon Nicholls, Louis Blatherwick, Paul Cargill and Steve Brooke.
Production Manager for Naked Productions Daren Spruce. Thanks to Miles Wheway and Teresa Milewski.
Directed and produced by Polly Thomas. Musical direction by Harrison Knights.
For Audible UK, Executive Producer Mariele Rauncre Temple Co-Executive Producer and Commissioning Editor Lydia Shamah and Production Co ordinator Alex Curran.
Produced by Naked Productions for Audible Originals.
Listen now: https://adbl.co/vergil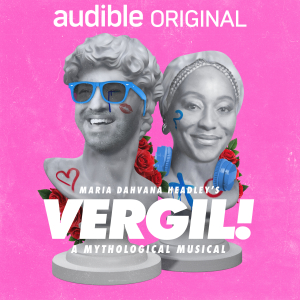 BBC AUDIO DRAMA AWARDS 2023 BEST SERIES WINNER
Exemplar by Ben and Max Ringham and Dan Rebellato ,
A modern-day thriller set in the north east of England. Jess is a lone wolf scientist with a troubled past whose passion for sound makes her the UK's leading audio forensic examiner, who undertakes a different sound challenge in every episode.
Exemplar: an audio recording made by a forensic analyst to recreate the precise audio conditions of a piece of evidence in a criminal or civil case
Cast includes Gina McKee, Shvrone Marks, Fenella Wologar, Don Gilet, Deka Walmsley, Charlie Hardwick, Barbara Marten, Juliet Stevenson, Chetna Pandya, and Asif Khan.
Original music by Ben and Max Ringham
Recorded by Alisdair McGregor. Sound design was by Lucinda Mason Brown with Ben and Max Ringham
First broadcast on BBC RADIO 4 / August 2022 and available on BBC Sounds https://www.bbc.co.uk/sounds/play/m001b4fs
EXEMPLAR was produced by Polly Thomas and Jade Lewis
— a Reduced Listening production for BBC Sounds and Radio 4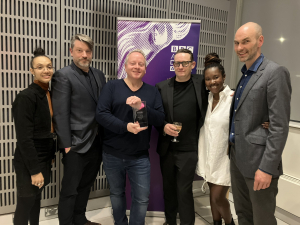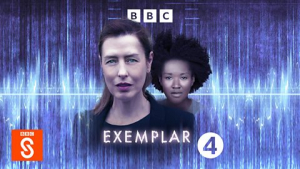 PENTABUS YOUNG WRITERS
PENTABUS / October 2022 onwards
written by 10 new young writers, directed by Polly Thomas , music and sound design by Jon Nicholls
— a Naked Production for Pentabus Theatre
SWEET DREAMS
TUTTI FRUTTI/ MAY2021 onwards
a new audio drama with songs for younger children about how to have a good night's sleep…written by. Mike Kenny music by Christella Litras and directed by Polly Thomas
— a Naked Production forTutti Frutti
DOG LOVES BOOKS
CBeebies / 9 MAR 2020
voice directed by Polly Thomas
Animated children's 52 episode series based on the award winning books by Louise Yates featuring Craig Cash and John Thompson
— head writer Alan Gilbey
— a Komixx Media Group production for CBeebies